For streamlined cross border moving services, trust the Toronto-based Lewis Abbeywood cross border movers!
Moving across Canada's borders is more complicated now than ever before. You need
reliable and experienced cross border movers
to ensure a seamless relocation. Since 1929, we have helped clients with all their relocation and storage needs. Our team of professionals coordinates worry-free relocations, so you can concentrate on the more exciting aspects of your adventure ahead.
Experienced Movers Make a Difference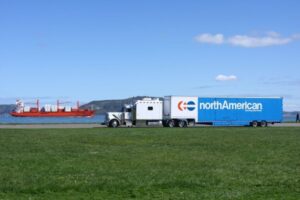 Any move takes time and effort, but a cross border relocation has an added layer of details. Customs rules and regulations, proper forms and documentation, possible duty fees, and tax considerations are all important components of a cross border move. It sounds overwhelming, but Lewis Abbeywood Moving and Storage has an experienced and knowledgeable team to guide you every step of the way.
Whether you are moving your family to a new home or relocating your entire business, we handle the details. Our expert residential and commercial movers are fully aware of the complexities cross border relocations entail and make sure your move is completed quickly and efficiently. Each client is unique, so we design a moving plan to meet your specific needs and budget.
Network of Resources to Aid Our Cross Border Movers
As trusted agents of North American Van Lines, we give our clients access to all the resources a global industry leader provides. With careful packing, secure storage coordination, superior equipment, and a reliable fleet, we will make sure all your goods are safely transported and arrive when you expect them. Our goal is to help you and your family, including beloved pets, settle into your new location as quickly as possible.
Contact Our Movers Today!
Contact our experienced professionals today for all your cross border moving needs. Learn why Lewis Abbeywood Moving and Storage is the trusted relocation and storage provider throughout Toronto and beyond. Call (416) 292-1107 or fill out our online form, and we'll design a cross border moving plan to meet your specific needs.